​InVivo is your one-stop-shop for all your antibody and protein needs! In addition to custom bioproduction, InVivo also offers a wide range of additional services such as cell banking, protein labeling, large-scale DNA preparation and more. Take advantage of our extensive portfolio and receive all services to preserve and optimize your products from one single source.
Hybridoma cell lines tailored to your needs
Hybridoma technology is a standard method for antibody development. By fusion of antibody-producing B-cells with myeloma cells, an immortalized hybrid cell line is generated that produces large quantities of one specific monoclonal antibody directed against your antigen of interest.
InVivo offers custom services for mouse hybridoma development. Depending on your specific needs, we provide flexible and customized solutions to develop high-affinity antibodies against your antigen of interest. The entire process, including immunization, cell fusion, screening, cloning and initial characterization usually takes around 4-5 months.
This service includes:
Development of murine monoclonal antibodies against haptens, peptides and protein
For research and IVD kit manufacturing
Extras:
Screening of antibody pairs for sandwich-ELISA
Negative-screening to avoid cross-reactions of antibodies
Isotyping
Mycoplasma testing
Cryopreservation of clones
Small-scale test production of monoclonal antibodies from hybridoma
Your production clones are safe with us
At InVivo, your cell culture clones are always handled with special care. After an initial test for mycoplasma contamination, samples are cryopreserved for storage in liquid nitrogen. This way the clones are always available for further protein production. In general, we use our serum-free ISF-1 medium for this purpose, but customization is possible upon customer request.
To avoid the loss of cell lines, we highly recommend to store important clones at two additional locations outside of InVivo.
If required, we can cultivate and prepare cell lines for safe or patent deposit at long-term storage facilities, such as the DSMZ – Braunschweig.
This service includes:
Cultivation of cell lines in original medium in T-flasks
Cryopreservation of 12 cryovials with 5 x 106cells per vial
Mycoplasma testing
Preparation documentation
Revitalization test for quality control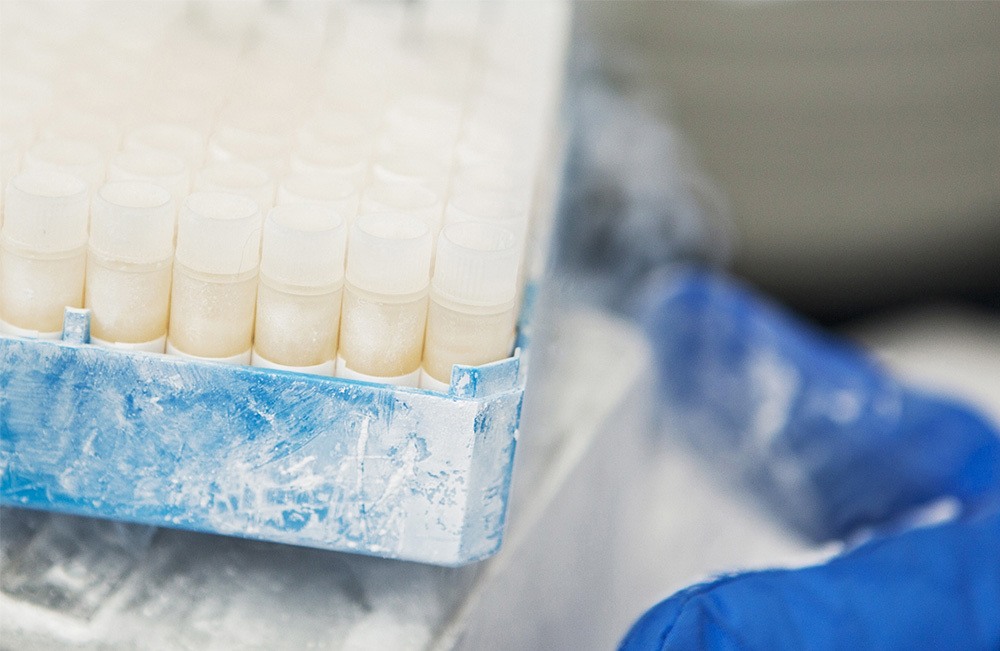 Moreover, we offer cultivation of cells and preparation of multi-generation working cell banks.
Extend the shelf life of your final product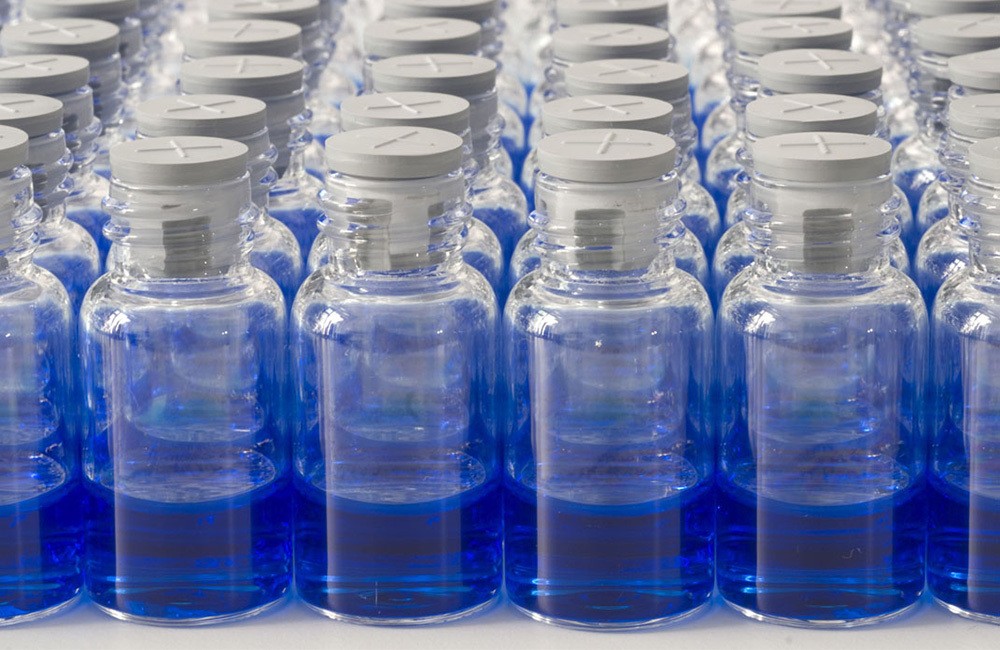 Lyophilization is a common method for the gentle dehydration of biological products, like antibodies and enzymes. By sublimation under vacuum, water is removed from the product without altering its molecular structure or reducing quality. Freeze-dried products feature a higher stability and an extended shelf life. They can easily be stored over longer periods of time, shipped without cooling chain challenges and reconstituted at any time if needed.
InVivo can provide lyophilization services for proteins and antibodies that are regularly produced in reasonable quantities (minimal amount: 100 mg). For this purpose, we offer a variety of different vials to choose from; the total maximum loading volume being 2L.
Overview of vials that are available for the lyophilization of your products
Vial Type
Capacity
Lid
Number of Vials per Lyophilization Run
Glass vial with thread, clear*
4 mL
white cap with interior lip
2100 pc
Glass vial with thread, clear*
11 mL
white cap with interior lip
or
white cap without interior lip, with lyo stopper
945 pc
Glass vial with thread, amber*
4 mL
white cap with interior lip
2100 pc
Glass vial with thread, amber*
11 mL
white cap with interior lip
or
white cap without interior lip, with lyo stopper
945 pc
Screw Cap Micro Tube, PP, with skirted base with knurls, no print*
0,5 mL
clear, yellow, orange, red, blue, purple, green, amber
2100 pc
Screw Cap Micro Tube, PP, with skirted base with knurls, no print*
2 mL
clear, yellow, orange, red, blue, purple, green, amber
2100 pc
* All vials are unsterile!
Contact us for more information about pricing and customization possibilities.
Upgrade your project for in vitro diagnostics
Labelled proteins are an essential tool in both, biological research and in vitro diagnostics. In particular, biotinylated antibodies are often used in immunological assays, for the detection and quantification of antigens and biomarkers.
Therefore, InVivo provides high-quality solutions for the chemical modification of antibodies and proteins:
Biotinylation
HRP- or AP-coupling
Bioconjugation with fluorophores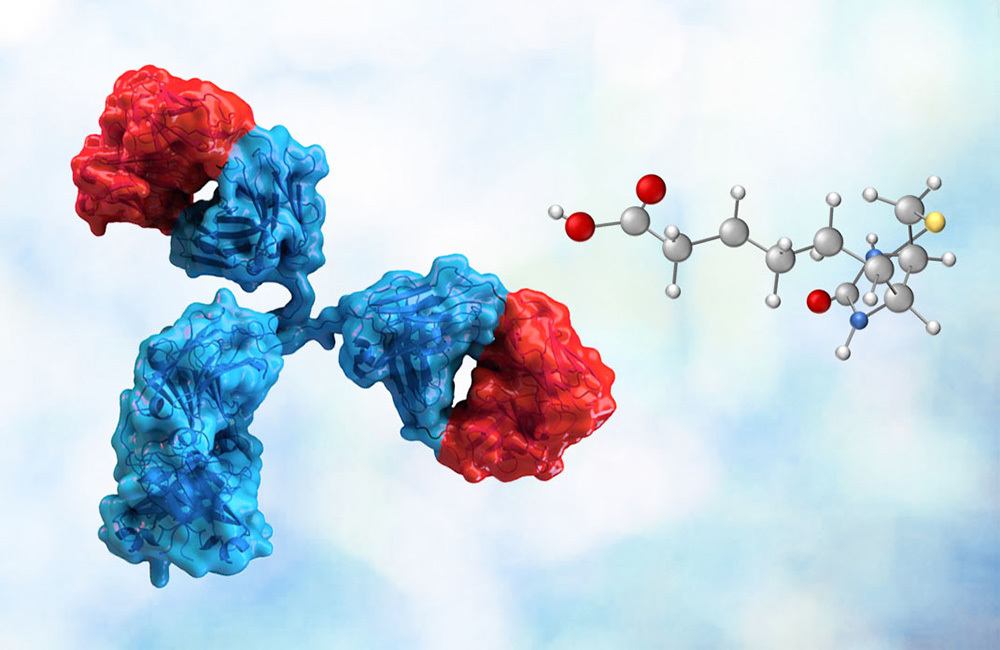 Make the most of your expression project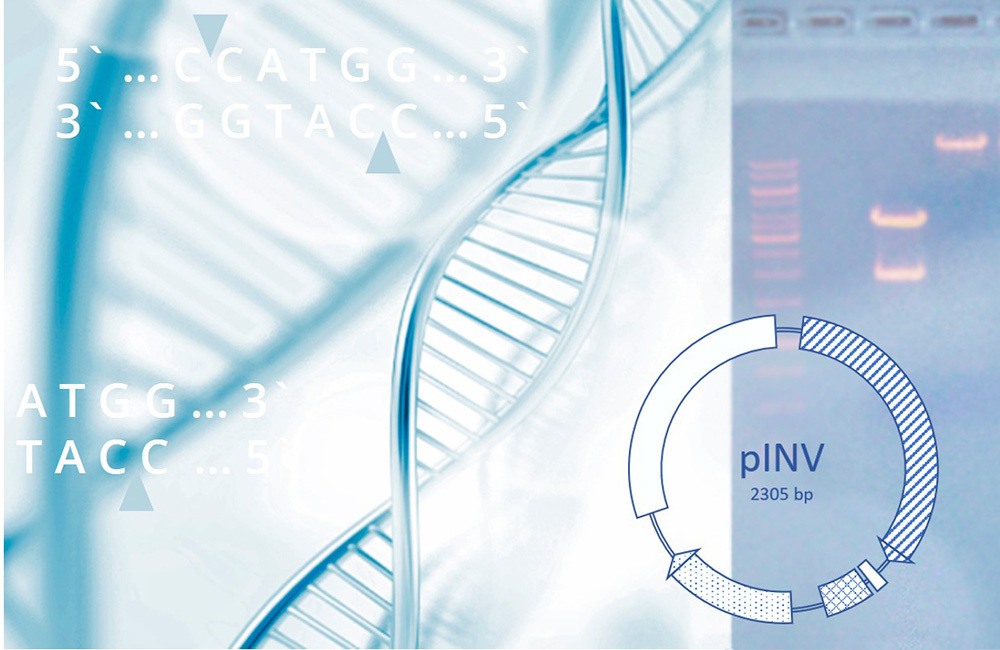 To reach ideal production rates in eukaryotic or prokaryotic expression systems, it is highly recommended to optimize DNA sequences depending on the specific project requirements. In this regard, InVivo offers a range of different DNA design services, such as codon optimization, insertion of restriction sites for subsequent cloning into InVivo´s proprietary expression vectors, addition of signal peptides for efficient protein secretion and the addition of tags for subsequent protein purification.
Large-scale DNA preparation
Try our cost-efficient high-yield solutions
Transient gene expression in mammalian cells requires large amounts of high-quality plasmid DNA. As commercially available kits exclusively use single-use columns and have a limited capacity of only 10 mg, InVivo established a proprietary procedure for large-scale DNA preparation. Here, reusable ion exchange columns are used which easily allow the cost-efficient preparation of up to 100 mg plasmid DNA* with a standard size ranging from 1500 bp to 9000 bp. This transfection grade DNA is animal component-free with a very low level of endotoxins.
*For individual projects, we can also offer larger DNA yields, if required.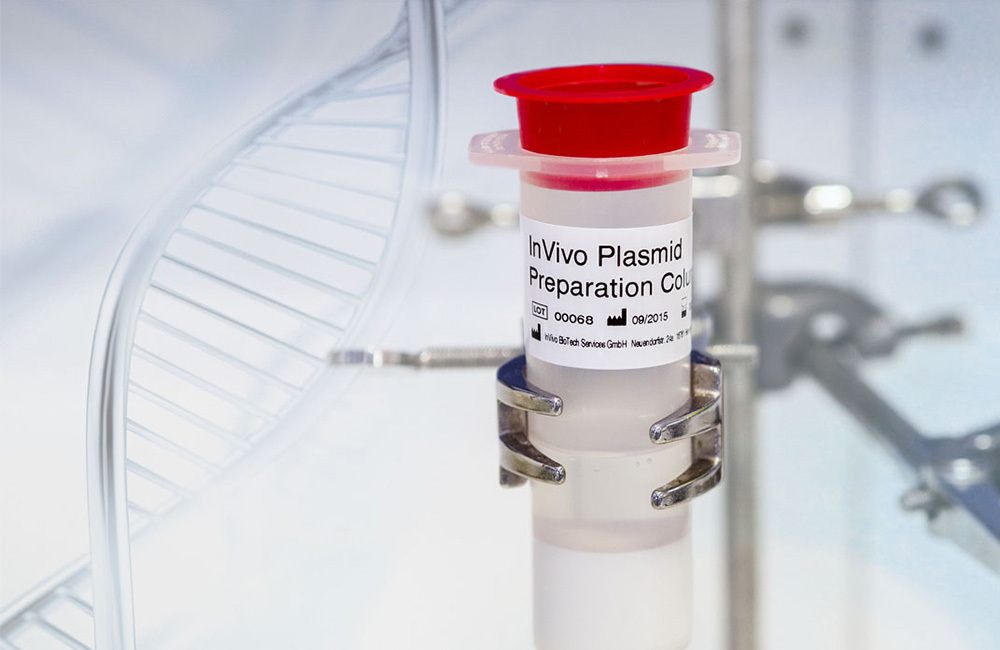 Antibody sequencing and optimization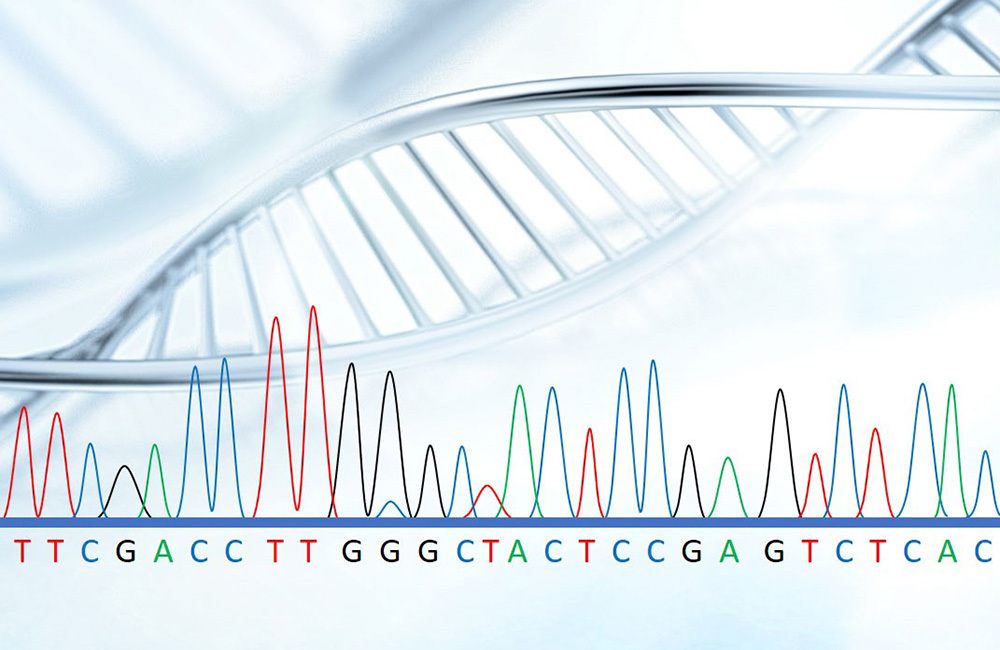 If you have a hybridoma cell line but your antibody yield is low, or if your antibody is specific but needs to be humanized, then InVivo can help you overcome these obstacles. By sequencing the cDNA of the variable domains from heavy and light chain, you will be able to optimize the antibody according to your needs. From RNA extraction to sequencing, from codon optimization to high yield antibody production and purification – get it all from one source!
Antibody Sequencing
Total RNA isolation from hybridoma cell line

cDNA synthesis (via either oligo dT or species-specific primers)

Amplification of variable domains of heavy and light chain

Subcloning into sequencing vector and sequencing
Antibody Optimization
Codon optimization

Antibody engineering  

Subclass switches to human (chimeric antibodies)
Related Services
Transient antibody expression in HEK-INV or CHO cells in serum-free medium

Antibody purification by protein-A/-G affinity chromatography     
Invivo Biotech Services
Neuendorfstr. 24a
16761 Hennigsdorf
Germany